& ARCHITECHTURAL HOMES
There is a definite appeal to a classic Los Angeles Mid-Century Modern home. Modern Design developed in the 1930s, the predecessor to Mid Century Modern, the design movement that became popular after WWII in 1945. Considered modern design because it values function over form, with its own unique twist. Mid-century modern uses dynamic decorative accents, expansive walls of glass, clean lines, muted curves and wide-open floor plans. Mid-century modern architecture featured flat roofs, angular details, asymmetrical contours, and the first to use bi-level structures, with the intention of making complementary indoor and outdoor living spaces. Adaptable and chic, Mid-century modern style appealed to everyone. The Case Study Program honored architectural designs of some of these landmark homes. With notable architects such as Richard Neutra, Pierre Koenig, J.R. Davidson, Thornton M. Abell, Charles Eames, Craig Ellwood, Rodney Walker, Buff and Hensman, and Raphael Soriano, creating the modernist movement in our city.
HOLLYWOOD SPAULDING SQUARE PICTURE PERFECT
JUST SOLD | 1445 GENESEE AVE, SPAULDING SQUARE | $3,855,000 | 5 BD | 6 BA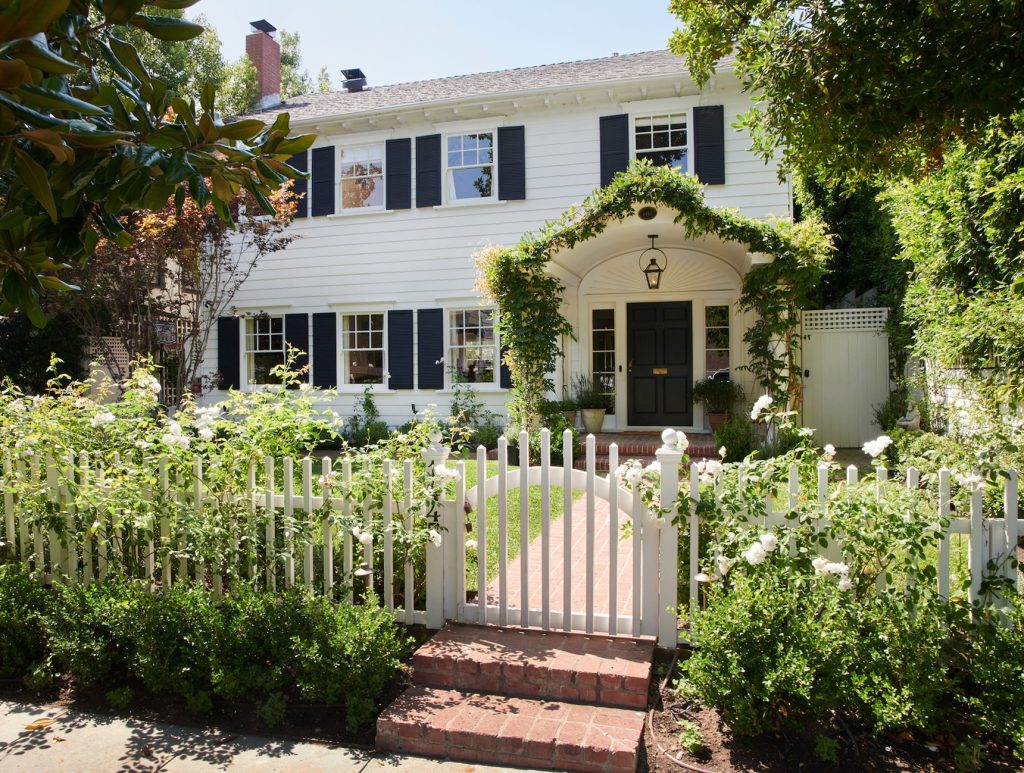 Picture perfect and magazine shoot ready. We were stunned to find out that the sellers of this spectacular home were not full-time designers. They recently updated this 1920's traditional home in the architectural neighborhood of Spaulding Square. The attention to detail that went into this restoration really shows.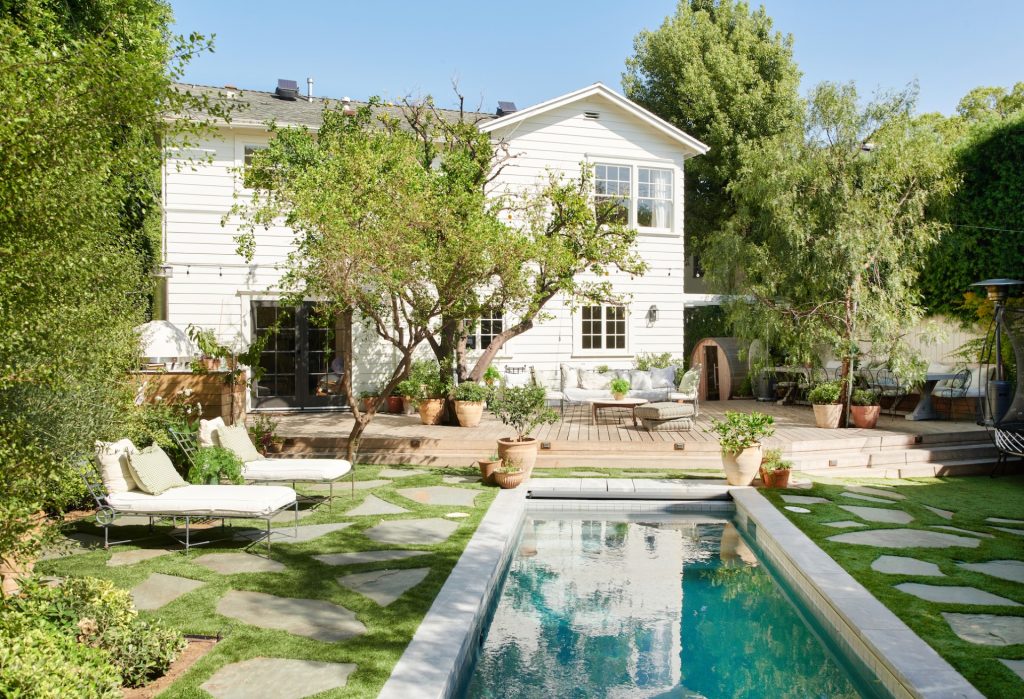 We were told the owners had the molds for the original crown molding and were able to reproduce and enhance the look throughout the home. Each room is a perfect blend of old and new. From original built ins to stunning new oak wood floors.
---
SHERMAN OAKS TIMELESS TREASURE TED TOKIO TANAKA, FAIA
3937 SUMAC DR, SHERMAN OAKS | $3,200,000 | 4 BD | 3 BA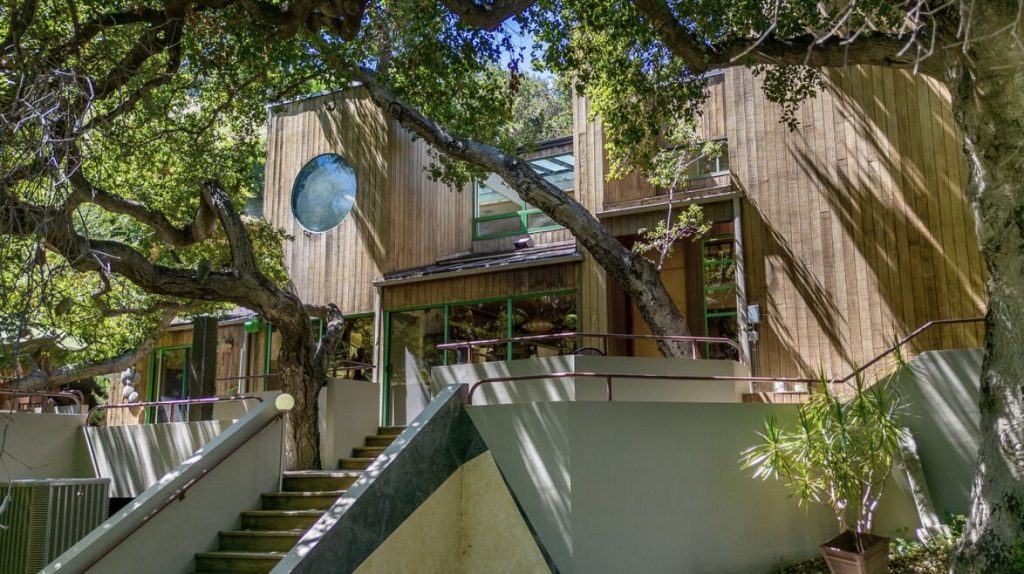 Architecture is timeless. At first glance we thought we stumbled upon something amazing from the late 70's or early 80's (we know, not likely). But this house from Ted Tokio Tanaka, FAIA was built in 1940. Gorgeous wood gives way to vertical and horizontal glass windows. Bright green accents in several rooms are bold frames for this geometric treasure.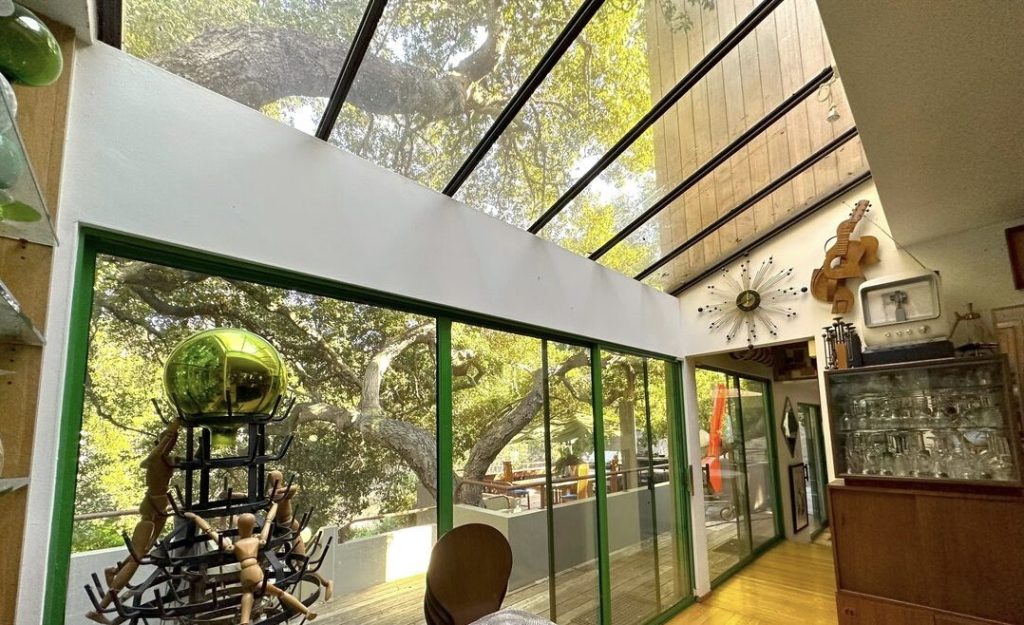 Museum-like high ceilings define the living room and library. Rows of windows allow for natural light and stunning views of mature trees which surround the property. Intriguing form extends to the quadrilateral pool with various length sides. A canopy of trees creates abundant shade for outdoor endeavors. This exceptional modern house is a one-of-a-kind treasure.
---
LOS FELIZ OAKS EXCEPTIONAL SMART HOME
1979 N VAN NESS AVE, LOS ANGELES | $3,495,000 | 4 BD | 4 BA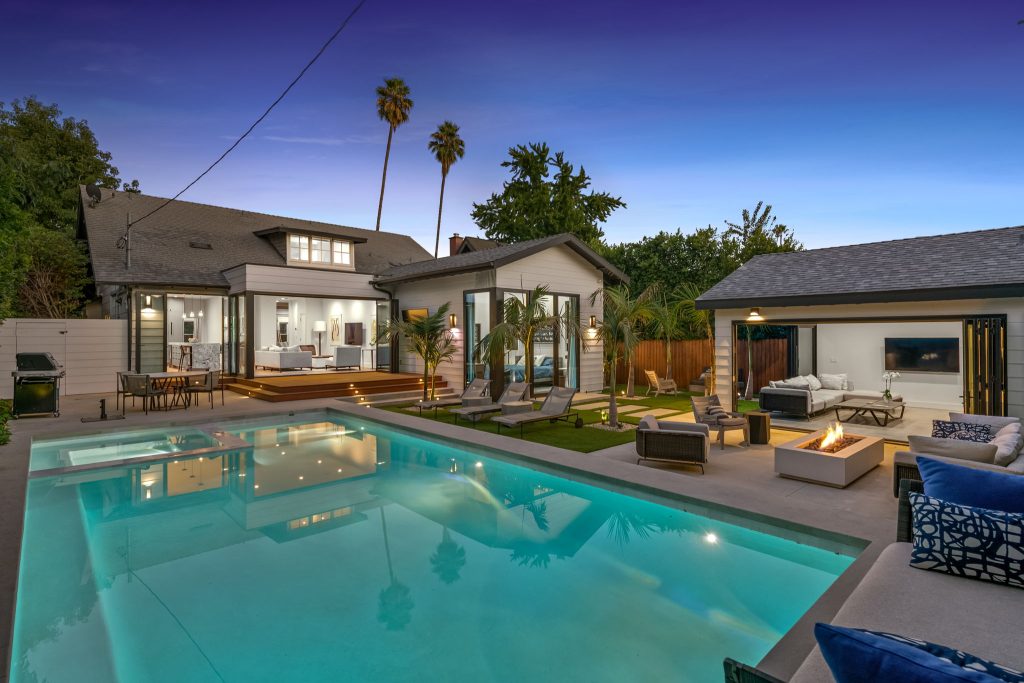 Introducing 1979 N Van Ness Ave. Just below the foothills of the Los Feliz Oaks neighborhood sits this stunning property. This exceptional smart home has gone through an extensive architecturally significant renovation and remodel.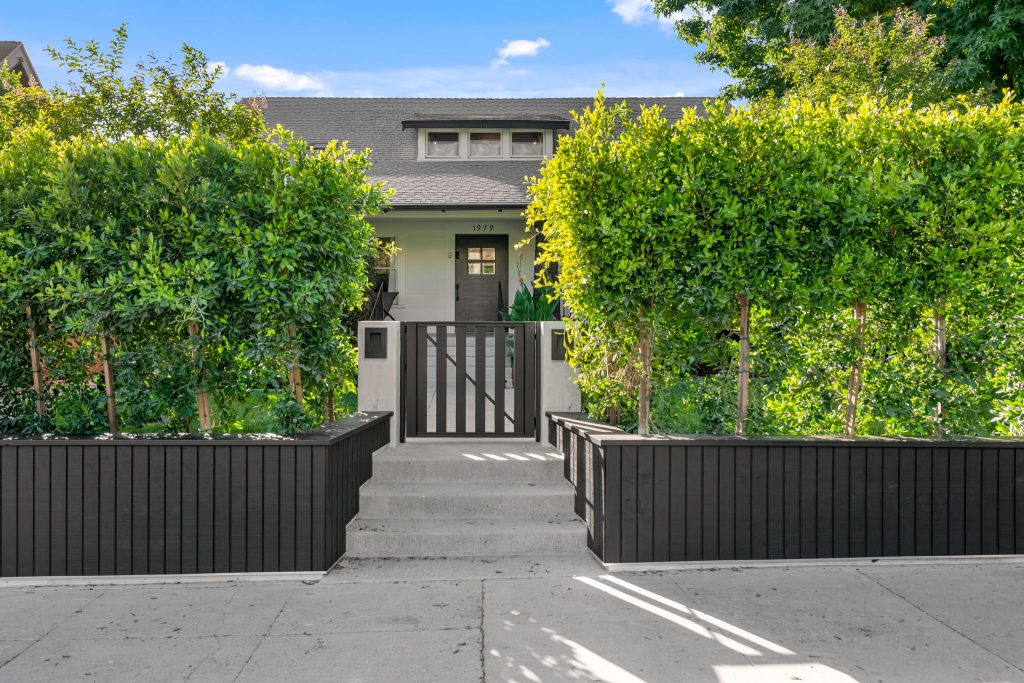 Hidden behind mature hedges, you'll discover a perfect mix of classic charm meets modern design. Upon entering, it is quickly evident that this is a one-of-a-kind property.
---
BRENTWOOD HARRY GESNER THE STEBEL HOUSE
1963 N MANDEVILLE CANYON ROAD, LOS ANGELES | $3,497,900 | 3 BD | 3 BA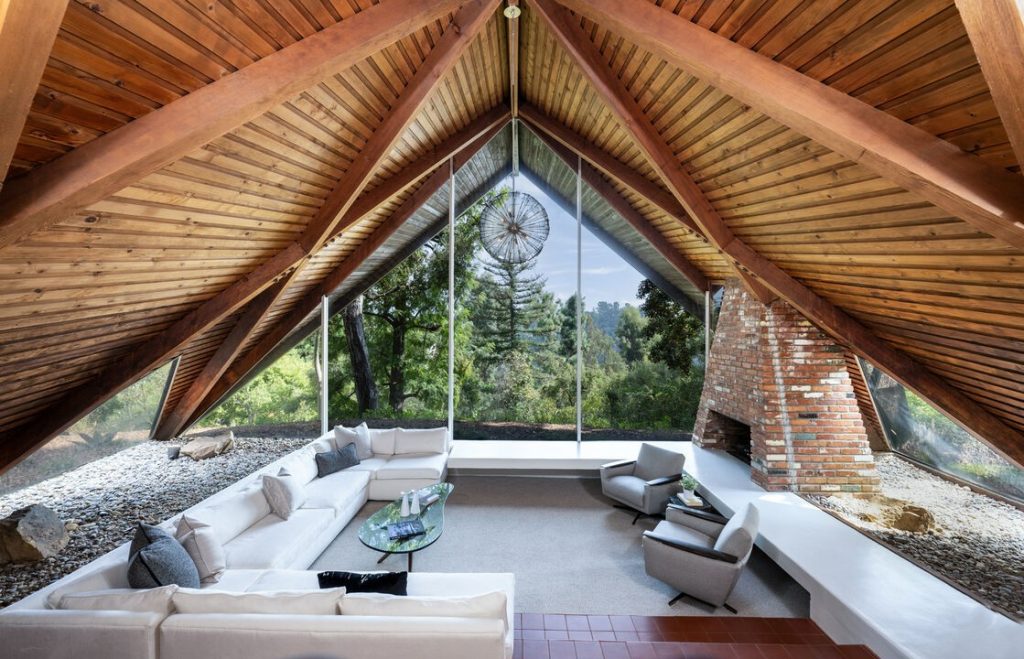 We sadly lost Harry Gesner just last year. Fortunately, there are some stellar examples of his unique modern architecture. His Malibu Sandcastle hit the market earlier this year. Now, we have the Stebel House. This A frame is truly something special. We're reminded of architecture usually found in houses of worship. 20ft high ceilings in places allow for some stunning vertical views of the natural habitat outside. A gabled roof line meets designed geometry.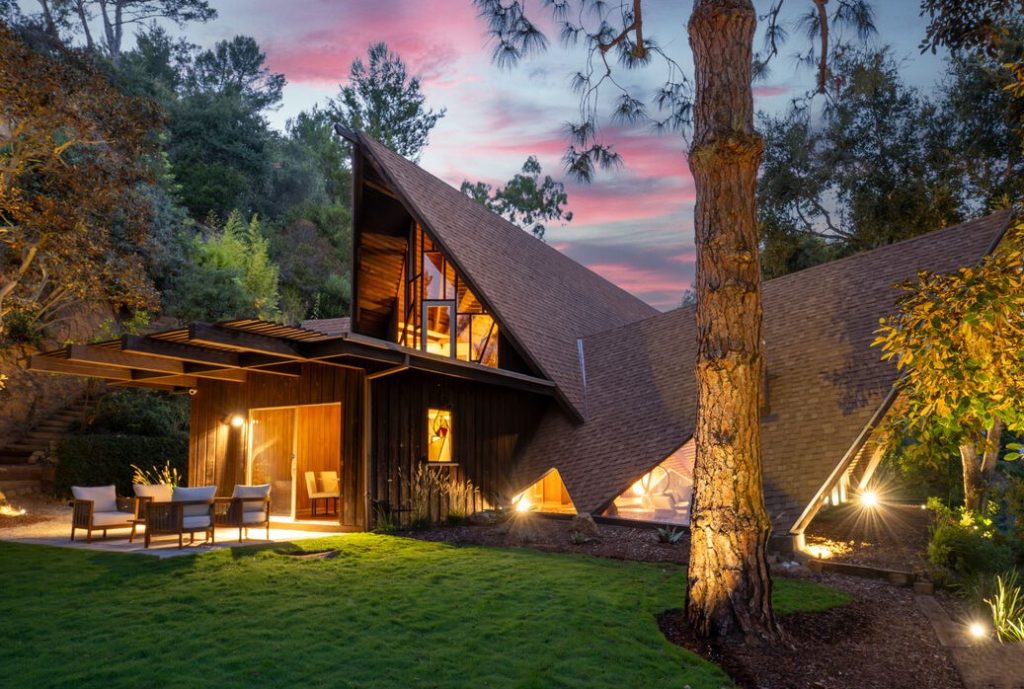 The sunken living room is surrounded by an interior rock garden and a triangular fireplace which appears to pierce the ceiling as it rises towards the sky. The primary bedroom boasts 18ft high vaulted ceilings, expansive spaces, and a floor to ceiling built in bookshelf. Gesner was truly a one-of-a-kind architect with original and intriguing designs.
---
PASADENA THE MCMILLAN HOUSE CONRAD BUFF AND DONALD HENSMAN, FAIA
1130 LINDA VISTA AVE, PASADENA | $1,999,999 | 2 BD | 3 BA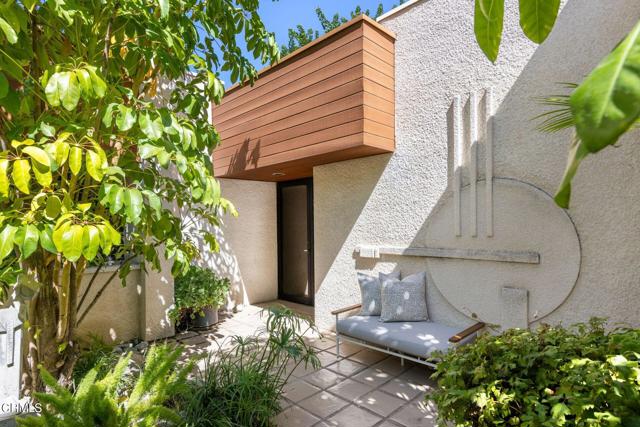 The magic words in modernist real estate: Orginal owner and first time on the market. The McMillan House by Conrad Buff and Donald Hensman is classic late period for them. And, remains in mostly original condition. Our first impression upon our approach is some really cool 80's looking art work on the stucco outside the front door.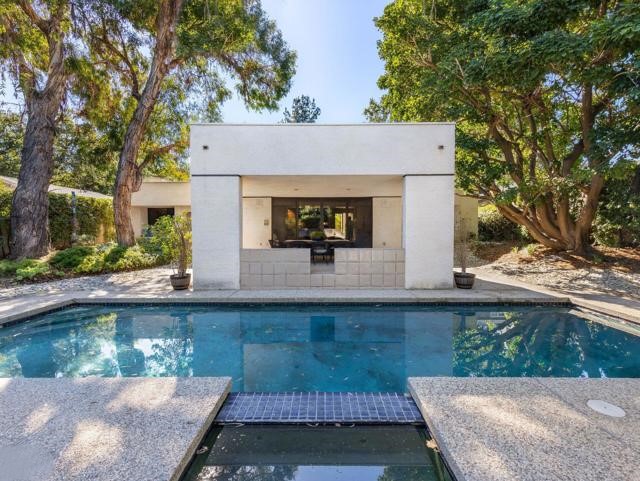 . The signature open floor plan is evident, yet the rooms feel properly delineated. There are wood cabinets for days all thru out the house, most of which appear to be in good condition. The rooms are good sized.
---
HANCOCK PARK STORYBOOK REVIVAL HOME, CHATEAU LEMOINE
846 S LONGWOOD AVE, LOS ANGELES | $5,498,000 | 5 BD | 6 BA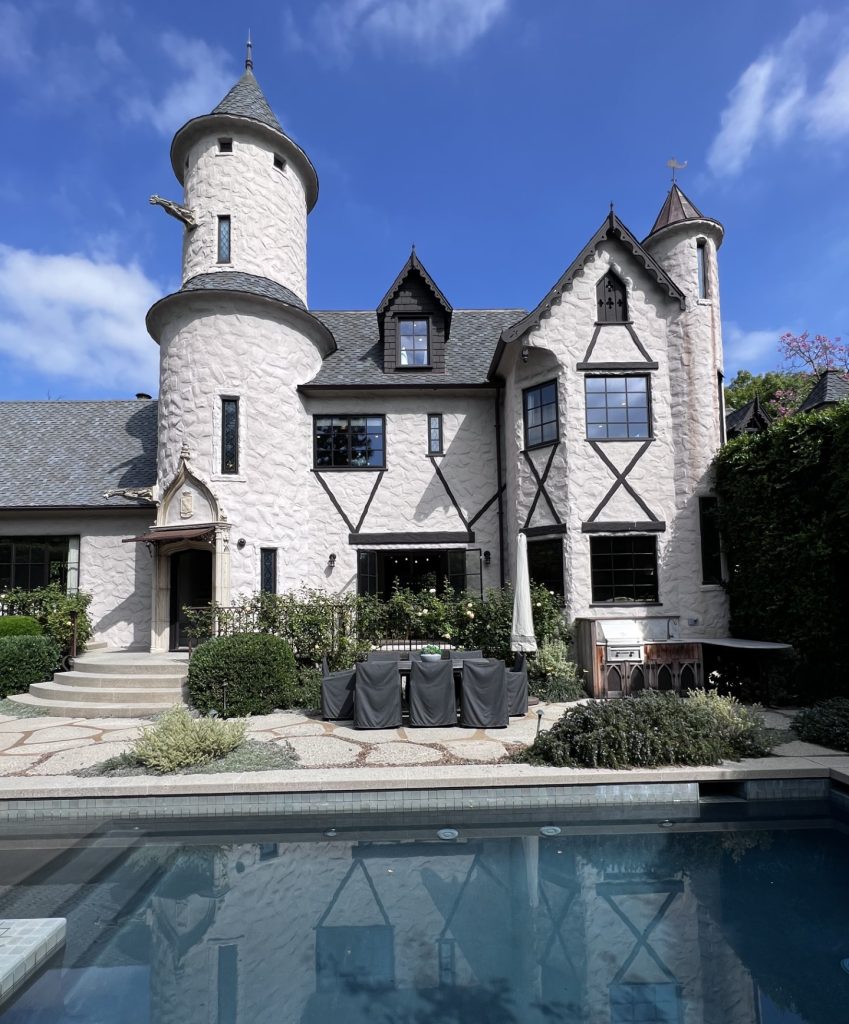 If we think of Hollywood as the land of make believe, then call the coachman to bring around the carriage, we're headed to a Storybook Revival home, Chateau LeMoine. French architect Earl LaMoine purchased this piece of land at the behest of his wife, as she loved the idyllic setting. The original home was styled to compliment the homes they knew in the South of France.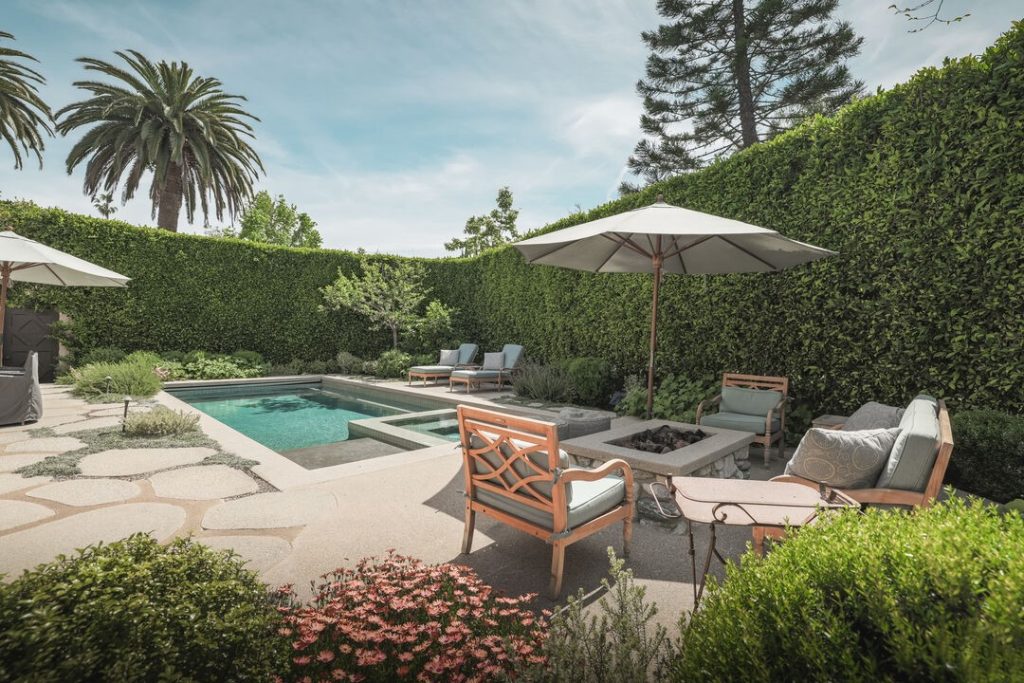 It was completed in 1926. Set in the Brookside neighborhood along the Arroyo De Los Jardines (Brook of the Gardens), the home is now gated and surrounded by tall, lush landscaping for plenty of privacy.
---
BEVERLY HILLS THE NANCY SINATRA HOUSE
2296 BETTY LANE, BEVERLY HILLS | $2,950,000| 4 BD | 4 BA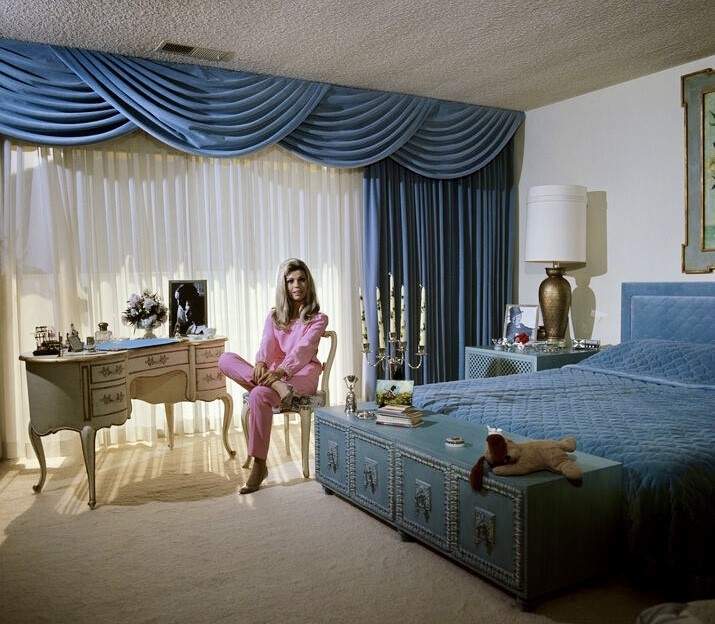 If Gogo boots, mod dresses and beehive hair dos are your inspiration, then the Nancy Sinatra house above Beverly Hills has answered your prayers. At the intersection of Hollywood Regency and Mid Century, this house is quintessential 60's kitsch and glam. The picture-perfect swimming pool is accented by classic green and white awning trim around the roofline.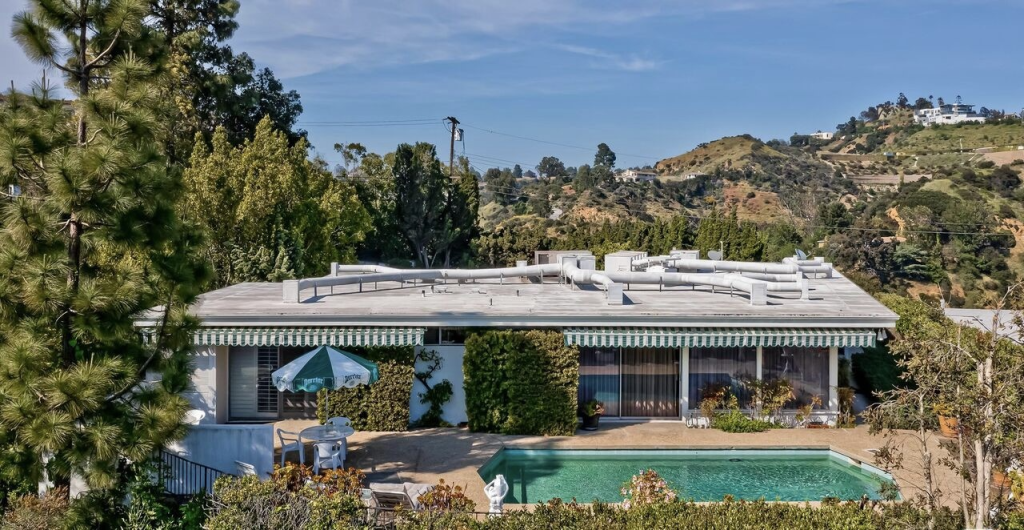 Parquet floors, antiqued mirrors, and a double-sided floating fireplace provide the setting for a martini-fueled celebrity bash.
---
MAR VISTA GREGORY AIN, ARCHITECT MODERNIQUE HOMES
3550 Meier Street, Los Angeles | $2,495,000 | 3 BD | 2 BA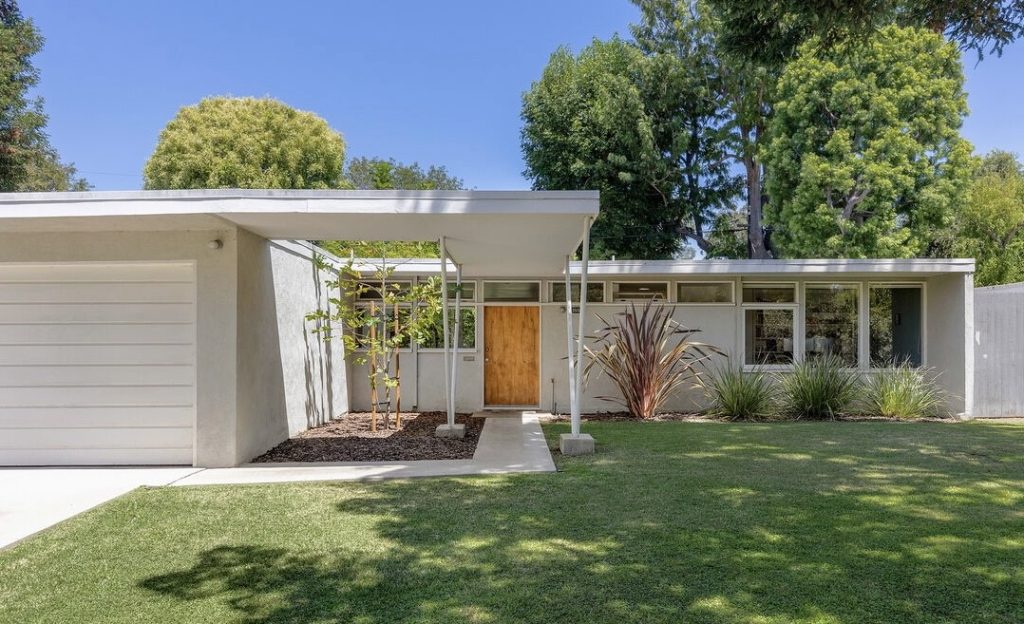 With as many examples of modernist architecture in Los Angeles, we, surprisingly, have few realized planned modern communities. This Gregory Ain designed house for the Modernique tract in Mar Vista is one of those few homes.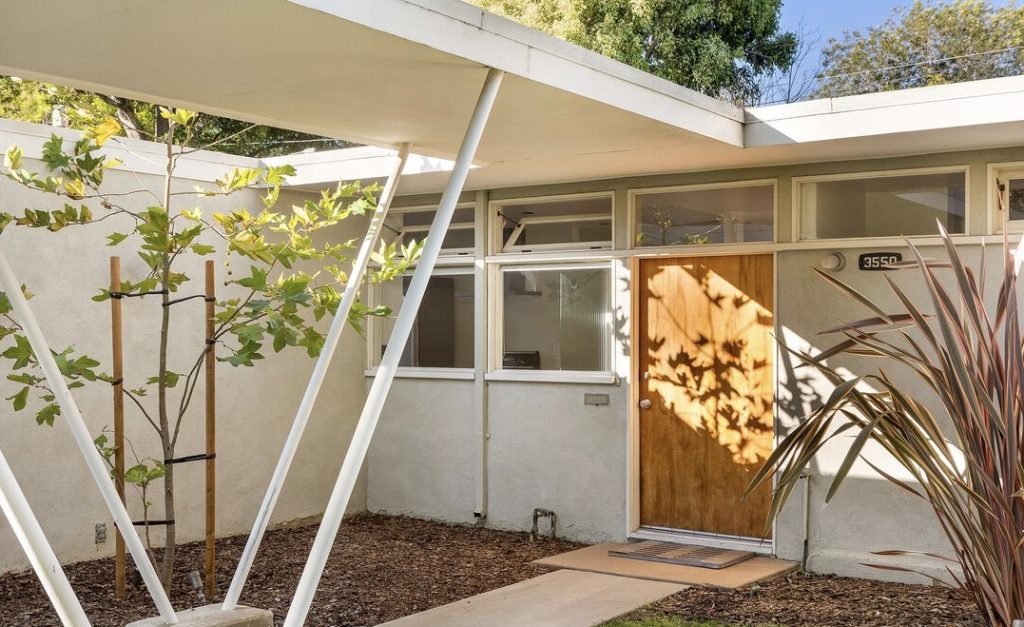 A progressive architect who was arguably kept out of the Case Study program due to his controversial communist leaning views was still able to make a substantial impact on the landscape of Southern California modern homes. We know get to consider ourselves lucky to be associated with Ain.
---
LOS FELIZ EDWARD FICKETT THE JACOBSON RESIDENCE
4520 DUNDEE DR., LOS FELIZ | $6,849,000 | 3 BD | 5 BA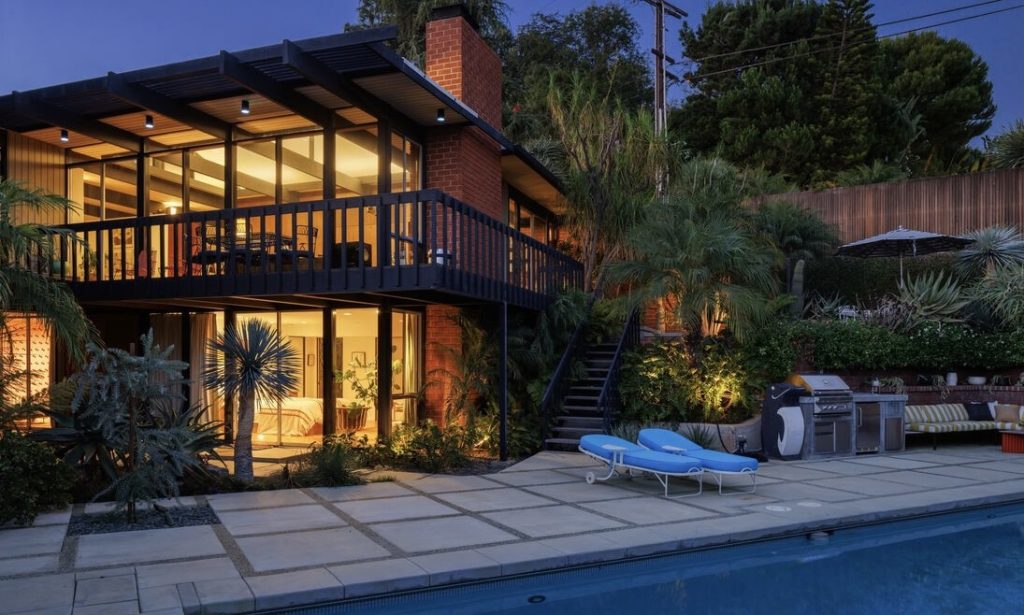 Our experience with Edward Fickett mid century architecture usually has us pining away a casual day by the pool in Palm Springs. The Jacobson Residence in Los Feliz has plenty of the signature mid-century open floor plan vibes and walls of glass. But this custom residence was designed with warm woods, red brick and split levels.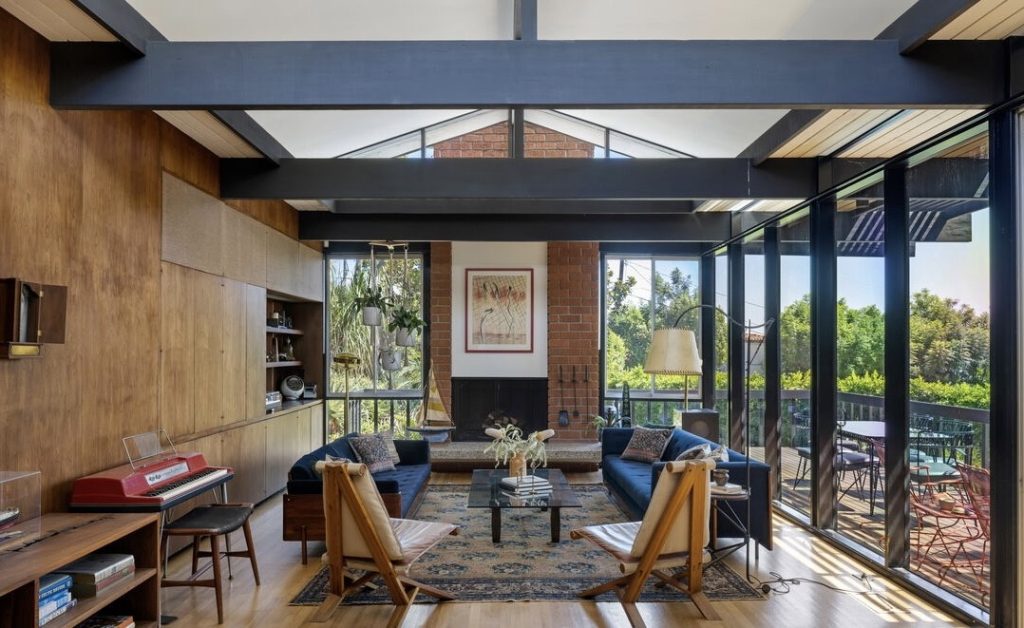 It's nicely situated on the hillside to take advantage of the westerly views and gorgeous California sunsets. And indoor atrium set with a red brick backdrop is one of our favorite features. And, As an added bonus. It's only a few doors down from Neutra's Lovell Health House.
---
TROUSDALE ESTATES THE CALVET RESIDENCE BY REX LOTERY, FAIA
1061 LOMA VISTA DRIVE, BEVERLY HILLS | $21,995,000 | 6 BD | 8 BA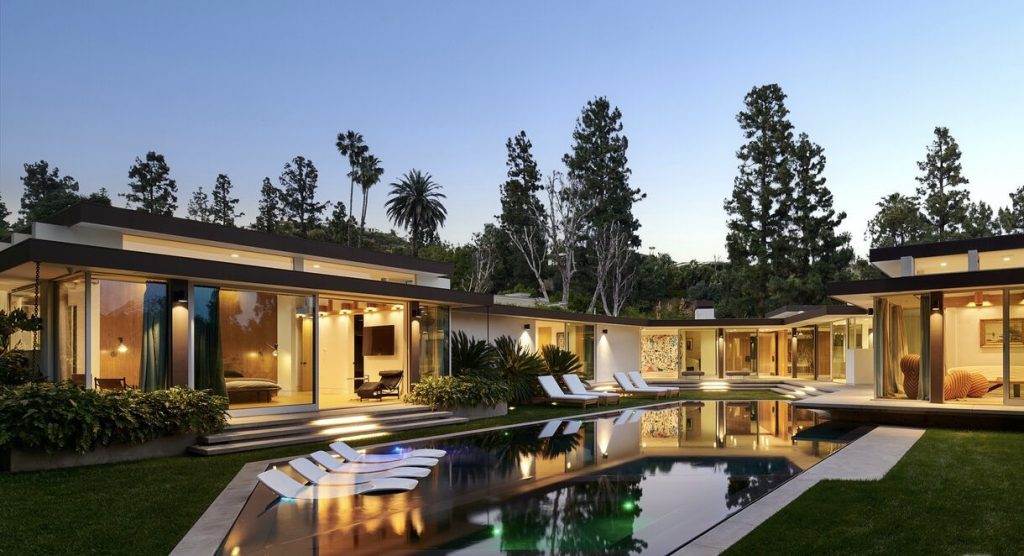 As much as we'd like to say Trousdale Estates never disappoints, let's face it, some of the houses have been remodeled beyond recognition from the original modernist design. The Calvet Residence by Rex Lotery, FAIA, however, is stunning.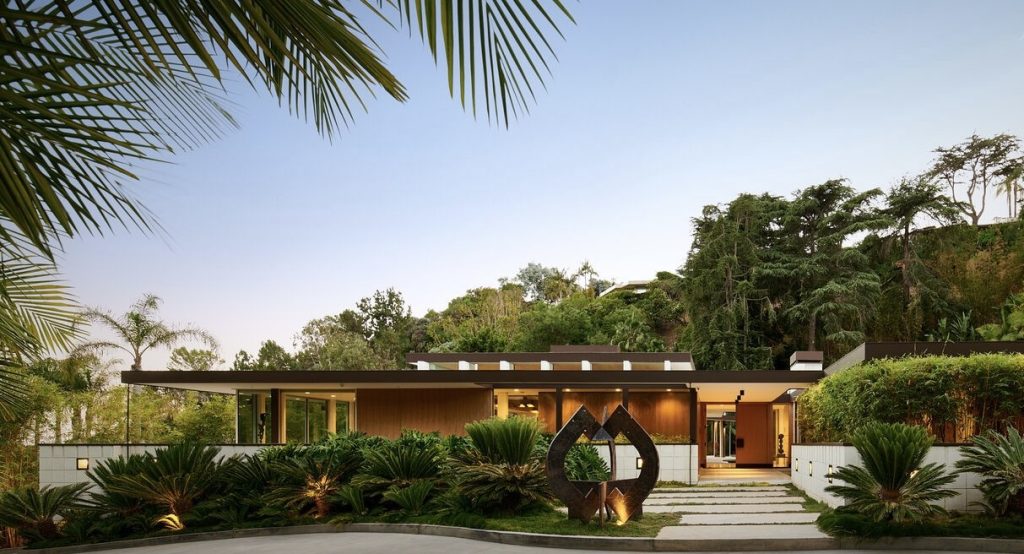 From the abundantly lush landscaping to the warm wood accents, this restoration will make some new deep pocketed homeowner swoon with appreciation. Waking up to a view looking thru the floor to ceiling walls of glass of a stylish geometrically shaped pool doesn't hurt either. Is that an Alexander Calder we spy in the backyard?
---
GLENDALE A QUINCY JONES ARCHITECTURAL
268 W KENNETH RD, GLENDALE | $5,900/month | 2 BD | 2 BA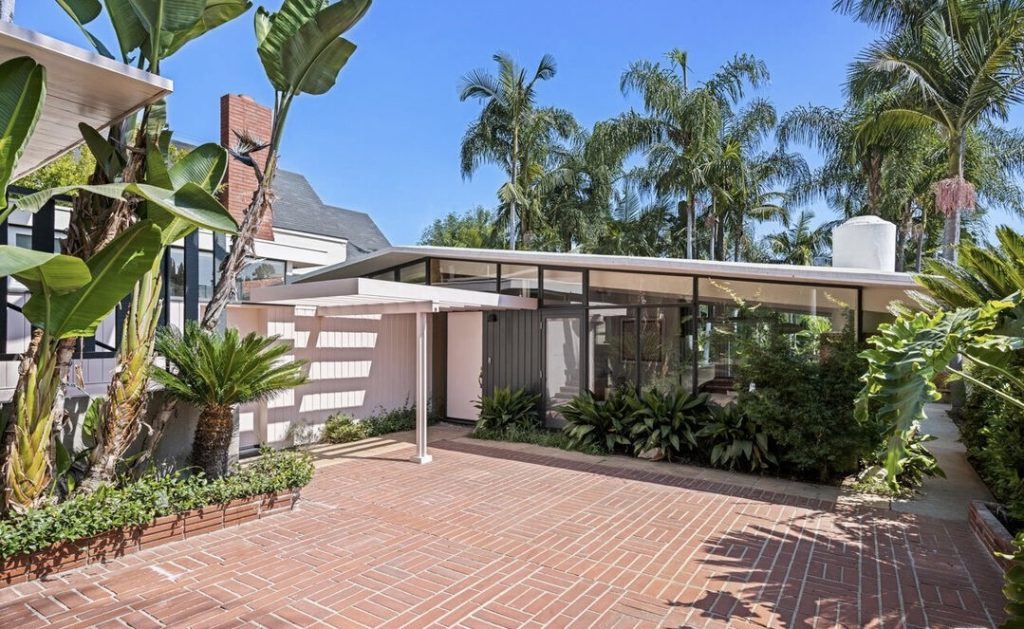 Run, don't walk. An A Quincy Jones architectural house for lease. This Sun Villa home has concrete, cork, glass and wood. Palm trees galore surrounding a classic mid century kidney shaped pool. This will be swept up in record time.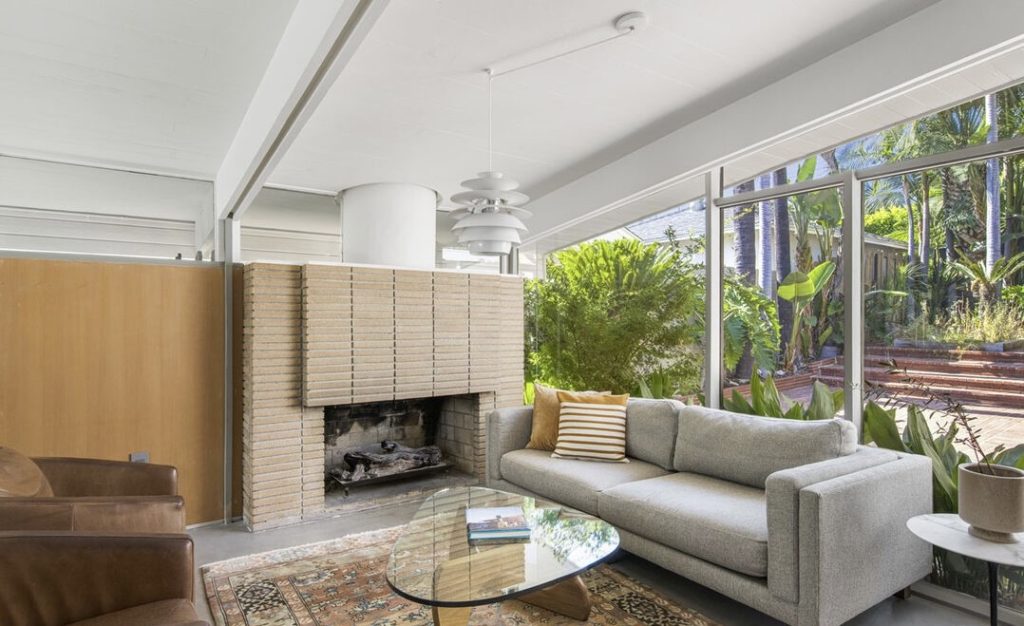 Available for lease in Glendale, a rare opportunity to live in statement midcentury modern architecture by the celebrated master A. Quincy Jones. This "Sun Villa" residence, one of just three in Los Angeles, presents post-and-beam design circa 1950 that seamlessly integrates interior and exterior spaces amid showers of natural light
---
LA CAÑADA FLINTRIDGE LLOYD WRIGHT EMANUEL GAINSBURG RESIDENCE
1210 JOURNEYS END DR, LA CAÑADA FLINTRIDGE | $2,975,000 | 4 BD | 4 BA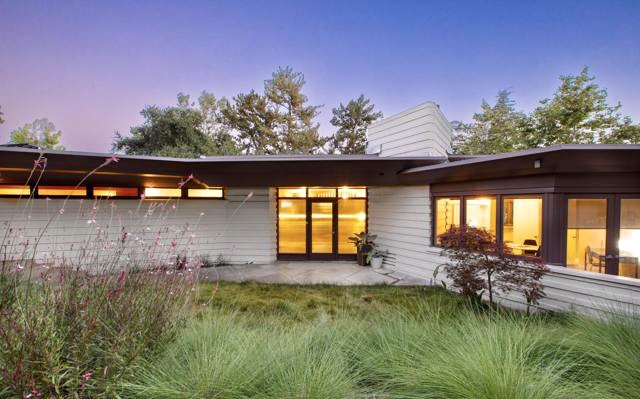 Another great Lloyd Wright home just hit the market in La Canada Flintridge. The Emanuel Gainsburg residence from 1946 does not disappoint. From a stunning roof line to ribbed concrete walls, this house has a generous amount of original details that make it so special. Unique room angles create geometric patterns making this a one-of-a-kind home.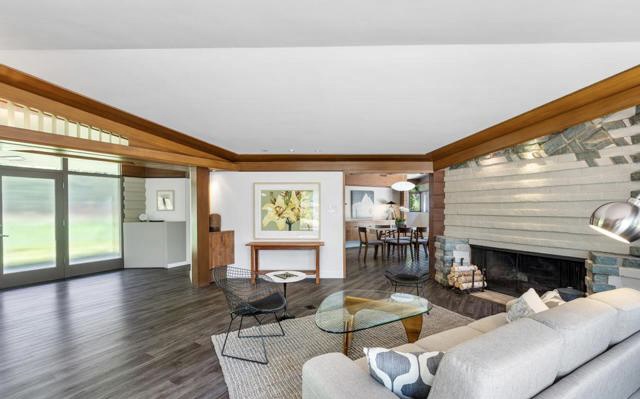 There has been some extensive renovation to the property. We may suggest the new owner rethink the flooring. But, overall, this is an exceptional masterpiece from one of the greatest modernist architects contributing to the Southern California landscape.
---