Sunset Strip – Hollywood Hills – one of the most iconic places in Los Angeles, and home to many of LA's most beloved destinations.  Known worldwide as historically significant in the music and entertainment world. There is no lack of enjoyment in this community with theaters, boutiques, museums, shopping, restaurants, and a dynamic nightlife. Opposite to its reputation, Sunset Strip isn't all studios and entertainment. The Hollywood Hills that surround this area, are peaceful winding streets, filled with homes with charming character and breathtaking views. A mix of vintage house, contemporary apartment buildings, and traditional Los Angeles bungalows. Also known for it's Sunday farmer's markets, the private canyon living offers an eclectic artist community with something for everyone. Offering exquisite estates with explosive City, Mountain, and Ocean Views, the neighborhoods above Sunset Blvd are some of Los Angeles' most exclusive. The Hollywood Hills neighborhood is divided into many different areas some including filled Bird Streets, Laurel Canyon, Hollywood Heights, Outpost Estates, Mount Olympus, and Nichols Canyon.
The Bird Streets … With classic names like Thrasher, Swallow and Oriole, are filled with awe-inspiring estates, many with jaw dropping views from downtown to the Pacific Ocean. Celebrities and Hollywood elite alike choose to retreat to their private sanctuaries in the Bird Streets where they can easily head down to "the strip" for award-winning dining and entertainment. One of the most famous houses in this area is the stunning Case Study No. 22 house, also known as the Stahl House, designed by architect Pierre Koenig, as well as, the home George Harrison wrote "Blue Jay Way" in 1967.
Laurel Canyon … Laurel Canyon is an important travel way between West Hollywood and the San Fernando Valley, specifically into Studio City. This neighborhood was first developed in 1910, with some of the main side streets being, Mount Olympus, Kirkwood, Wonderland, Willow Glen, and Lookout Mountain Avenue.
Home to many famous musicians, especially during the peak of rock n' roll in the 1960's and 70's. Past residents included Cass Elliot, Joni Mitchell, Frank Zappa, Jim Morrison and Carole King. Laurel Canyon is also known for the "Bailey House," Case Study House No. 21, by Pierre Koenig. The area is woodsy, with abundant plant life, rolling hills, and enchanting hillside bungalows. Despite its rich history, it is a quiet residential area, affording a break from the nearby city life below.
Unlike other nearby canyon neighborhoods, Laurel Canyon has houses on only one side of the main road. There are many side roads that lead off the main canyon, most of them are not through streets, only emphasizing the solitude of this neighborhood. This area continues to attract people with bohemian and artistic sensibilities.
Whitley Heights … Whitley Heights is a residential neighborhood in the Hollywood district of Los Angeles. Named for Hobart Johnstone "HJ" Whitley, known as the "Father of Hollywood. A Mediterranean style village designed on the magnificent hillsides above Hollywood Boulevard.
One of Los Angeles's first celebrity communities, some of its legendary residents include Rudolph Valentino, Barbara LaMarr, Maurice Chevalier, Bette Davis and Charlie Chaplin. Bordered on the north and east by Cahuenga Boulevard, west by Highland Avenue, and on the south by Franklin Avenue. Beautifully designed on winding roads with homes that are Spanish in style and magnificent cultivated grounds.
Whitley made fantastic use of the space providing each home its own stunning view, and stairways built from level to level, to embrace walking throughout the neighborhood. It is rumored that many homes have secret tunnels and passageways.
Although the construction of the 101 freeway destroyed many landmarks in the neighborhood, as recognized by the National Register of Historic Places. Whitley Heights continues a to be a significant treasure of a neighborhood to many happy residents.
Mount Olympus … Mount Olympus is a renowned neighborhood in the Hollywood Hills that occupies a narrow north-south strip of land lying just east of Laurel Canyon. It is bordered by Hollywood Boulevard, Laurel Canyon Boulevard, Willow Glen Road, and Nichols Canyon Road. Featuring oversized lots, chic retro homes of all styles, and breathtaking views of the city. Most famously known for the streets, which are named from Greek mythology, such as Achilles, Hermes, Venus, Vulcan, and Zeus Drive.
Hollywood Heights … Hollywood Heights is a small neighborhood in the hills that is just west of the 101 and is bordered by Highland Avenue, Outpost Drive, Franklin Avenue, and the Hollywood Bowl.
Famous for a couple notable destinations, one is the legendary Yamashiro Restaurant, a replica of a palace in Japan, that has majestically stood on a hill looking over Hollywood since 1911. The other is the exclusively private Magic Castle. Its building is an original Chateau-esque mansion built in 1909.
The area includes a number of notable historic homes and buildings and has been home to many people in the film and music industries, dating back to the silent film era. Including, the Samuel Freeman House (1962 Glencoe Way) designed by Frank Lloyd Wright, one of the first hillside houses to be built in the Hollywood Heights area.
Outpost … Intended to appeal to the emerging elite of L.A. in the roaring twenties, Outpost Estates were created to be one of the most exclusive and beautiful residential grounds in the world. A small community located with Runyon Canyon Park to the west, Mulholland Drive to the north, Franklin Canyon to the south, and Cahuenga Boulevard to the east. All centered around Outpost Drive. Homes were all designed in Spanish, Mediterranean or California modern style, with red tile roofs and enough patios to afford gracious outdoor living. Most of the original homes have been well-maintained, and much of Lower Outpost still looks like it did in the 1920s. Known as a haven from the busy city surrounding its borders, a popular neighborhood for those looking for city and canyon views, in a lush, park-like setting.
Nichols Canyon … Nichols Canyon was named after John G. Nichols, twice former Mayor of Los Angeles, and a builder who lived in the first brick house to be built in Los Angeles.  Nichols Canyon begins at Hollywood Blvd. on its south end and wends its way northward into the hills below Mulholland Drive. Nichols Canyon borders, and in some places overlaps, Runyon Canyon Park, to its east. Known as oases for wildlife with its lush canyons, of exotic trees and shrubbery that cover Nichols Canyon. For years Hollywood stars have made their home in Nichols Canyon, Ava Gardner, Natalie Wood, Rudy Vallee and Frank Sinatra, just to name a very few. The canyon has attracted both the famous and infamous and has had a featured role in many TV series, commercials, a couple of movies. Nichols Canyon is home to the internationally known John Lautner designed "Garcia House." However, best known for its jogging and cycling, and its natural, year-round, spring-fed creek and 100' waterfall. 
Sunset Strip Hollywood Hills Homes
CURATED – Sunset Strip Hollywood Hills Homes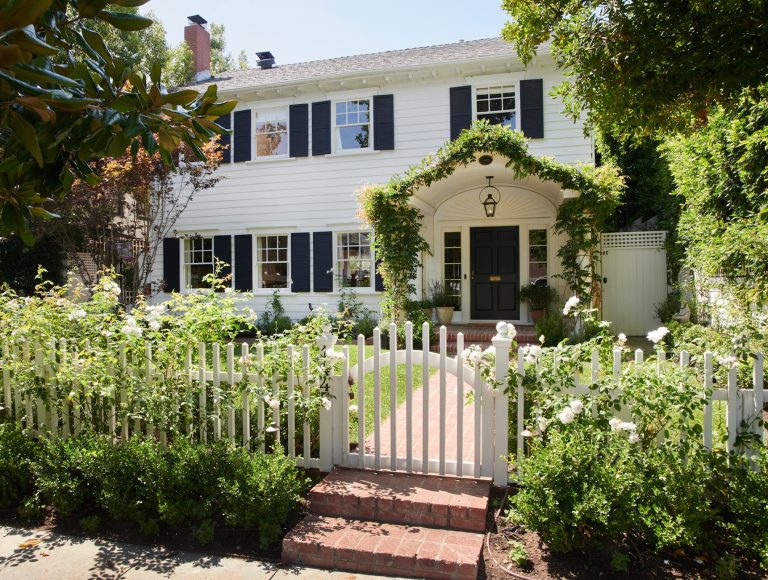 Picture perfect and magazine shoot ready. We were stunned to find out that the sellers of this spectacular home were not full-time designers. They recently updated this 1920's traditional home in the architectural neighborhood of Spaulding Square. The attention to detail that went into this restoration really shows.