Founded in 1984, West Hollywood, commonly called WeHo, is a popular city in Los Angeles County. Hiking local trails, running down the boulevards, or visiting a high-end gym, WeHo residents are ready for fitness. West Hollywood is the LGBTQ capital of Los Angeles. It is also known for being Dog, Vegan and Cross-Fit-Friendly. In West Hollywood, you can take your dog to some local yoga classes or gyms.
Although, the city of West Hollywood is quite small, it encompasses several fabulous neighborhoods. The area known as Norma Triangle, runs north of Santa Monica Boulevard and south of Sunset Boulevard, with charming single-family bungalows from the 1910's and '20's. It is said that silent movie star Norma Talmadge had a studio here, and the small houses were dressing rooms for the stars. During the daytime, Santa Monica Boulevard, also at the heart of the LGBTQ, offers many upscale shopping boutiques and delightful restaurants. Sunset Boulevard runs through WeHo, with bars and clubs that stay open all night, it's where people go to have fun.
Tri-West is a little West Hollywood neighborhood with single-family homes and apartment complexes. North of Melrose Avenue, south of Santa Monica Boulevard between the Pacific Design Center and La Cienega. Near the West Hollywood Park and Library, the area is mostly in the flats, making it convenient for people to get around. The community is near local shopping and restaurants, is closely knit, where people feel comfortable, lookout for, and get to know one another.
The smallest of communities is known as, WeHo Heights only a few blocks of the city. Almost entirely apartment buildings, many people have called this home for years. Bordered by Sunset, it is the most crowded of all areas. The community strives to maintain and preserve the quality of life of, and to create continued awareness in, their little part of West Hollywood.
West Hollywood is known for its friendly neighbors, fun community events, and fantastic location. A great place for singles, young couples, and professionals looking to get into the LA scene.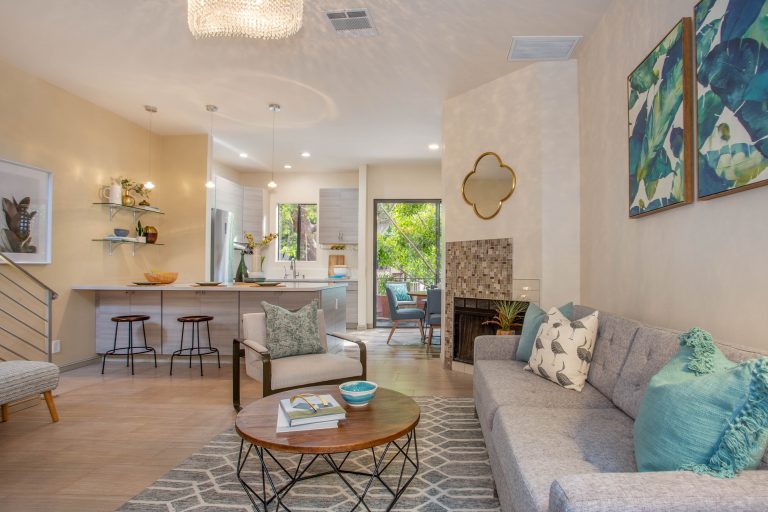 Unit #4. Tastefully remodeled spacious West Hollywood condo in the heart of WEHO. This 3-story, 1BD/2BA + Loft unit offers a multitude of distinct features throughout, and an abundance of natural light in each floor that won't go unnoticed. The bright and airy living room featuring high ceilings, an open floor plan, decorative fireplace and tile floors.