Beverly Grove is a bustling shopping and dining district and is said to be one of the best places to live in California. The neighborhood originated in the 1920s, part of its name refers to the orchards that used to flourish in the area. The original Los Angeles Farmer's Market on 3rd and Fairfax opened in 1934 and sold local produce from area farmers. Ideally situated on the west side of an area generally known as Mid-City. Nestled between Beverly Hills and West Hollywood, with Fairfax on its eastern border. Encompassing, the Beverly Center, Farmer's Market and The Grove.
Beverly Center is a shopping mall in Los Angeles, located at the edge of Beverly Hills and West Hollywood, between La Cienega and San Vicente boulevards. The site's original occupant was a small amusement park known as "Beverly Park", featuring a Ferris wheel, merry-go-round, mini roller-coaster, and a pony ride called "Ponyland". The Beverly Center was once at the forefront of design and entertainment.
Considered an older, quieter neighborhood, the lovely Beverly Grove is a mid-Los Angeles neighborhood with houses, condos, and a growing number of estates. The general vibe of the area is pleasant and tranquil, with charming, Spanish-style cottages dotting tree-lined streets and contemporary abodes. In Beverly Grove there are a lot of bars, restaurants, coffee shops, and parks. Because of its location, there is lots to do, much of which is within walking distance. Near to Downtown, Santa Monica or Century City in less than an hour by car, transit or bike. The best of Los Angeles is at your fingertips.
HIGHLIGHTS: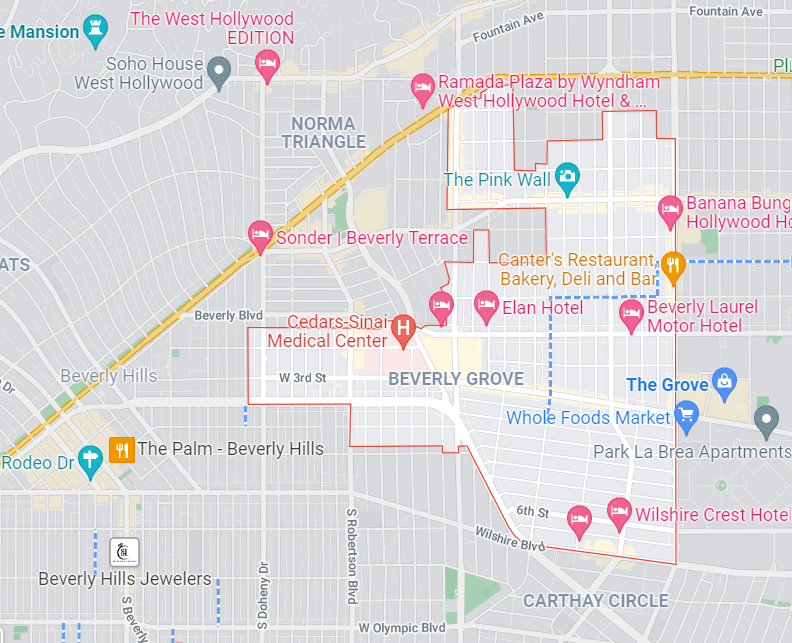 ---
If you would like to know more about this amazing home, call 310.622.0312 or email Brian Courville. Whether Mid Century Architectural, Spanish, Luxury, or Classic Los Angeles design, MODERN LIVING LA is here to guide you home. Follow us on Instagram @modernlivingla
Designated one of the Top 7 real estate websites for modern homes in the world by thespaces.com