Just over the hill from the city, is a charming neighborhood with lush tree-lined residential streets. Studio City is more of a community than a city. Bordered by Sherman Oaks, Valley Village and Toluca Lake. Perfect for people who want to be near the city but choose a more residential lifestyle. The area got its name because of the many studios that call it home.
Studio City is one of the most desirable neighborhoods in Los Angeles. Offering a variety of architectural styles throughout, from large mansions and luxury homes in the hills, to small starter homes in the flats. Styles include everything from Mediterranean, Spanish and Italian Riviera designs to Contemporary Farmhouse, Mid-Century Modern, and Ranch. Many homes feature porches and decks to take advantage of beautiful canyon and valley views.
The city is broken down even further into smaller neighborhoods, some that encompass only blocks of space. One of the most expensive neighborhoods in Studio City, is Fryman Canyon Estates. Fryman Canyon Park is one of the most beautiful and well-known parks in the area. Gorgeous mountain trails perfect for hiking, dog walking and riding horses. Colfax Meadows is a neighborhood in Studio City often used in film and TV.
The Silver Triangle, which lies between Ventura Boulevard, Laurel Canyon Boulevard, and Laurel Terrace Drive, is another neighborhood in Studio City. Near to many conveniences for residents, it runs along Ventura, offering trendy dining, classic sushi houses, lots of bars, restaurants, and coffee shops. The neighborhood is known for a quite a nightlife. With the best of all worlds in one small community it's no wonder many celebrities live in Studio City.
HIGHLIGHTS: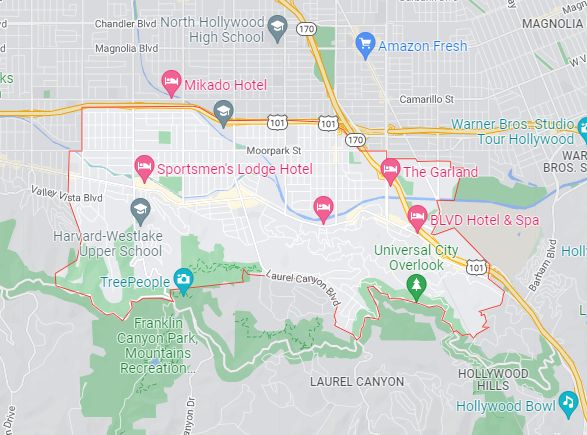 ---
If you would like to know more about this amazing home, call 310.622.0312 or email Brian Courville. Whether Mid Century Architectural, Spanish, Luxury, or Classic Los Angeles design, MODERN LIVING LA is here to guide you home. Follow us on Instagram @modernlivingla
Designated one of the Top 7 real estate websites for modern homes in the world by thespaces.com