"Beverly Hills" is named after Beverly Farms in Beverly, Massachusetts, named from Beverley "beaver-lake," in East Yorkshire, England, and because of the hills in the area. Originally a Mexican ranch where lima beans were grown, Beverly Hills was incorporated in 1914. It's very rich and romantic history includes Douglas Fairbanks and Mary Pickford's "Pickfair" on Summit Drive, Paul Trousdale acquiring the Doheny Ranch to create the Trousdale Estates, and Greystone Mansion, a 55-room mansion meant as a wedding present for his son Edward L. Doheny, Jr.  Now a designated historical landmark, along with the Beverly Hills Hotel, Rodeo Drive and the Will Rogers Memorial Park.  
Beverly Hills is bordered on the northwest by Bel-Air and the Santa Monica Mountains, on the east by West Hollywood, and on the south by Beverlywood. When it comes to beauty and luxury, few Los Angeles neighborhoods compare to Beverly Hills.  Home to celebrities, CEO's, and some of the entertainment industries finest, Beverly Hills encompasses the ultimate dream of fame and success. Embracing uniqueness in architecture, you can find everything from Art Nouveau to classic Spanish Colonial mansions.
The city stands out because it offers both a city ambience, as well as an easygoing residential feeling. Globally known as a high-end shopping paradise and home of the rich and famous. Beverly Hills features some of the best hotels in the world, amazing fine dining, beautiful parks, and exceptional local shopping along Rodeo Drive.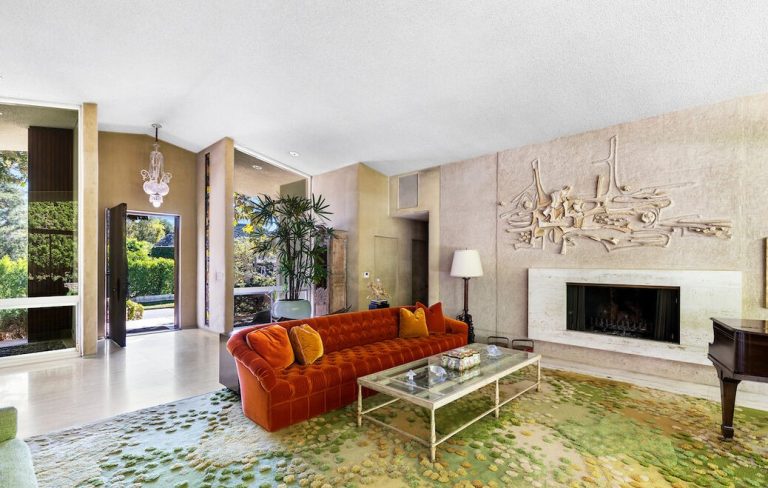 We know the time capsule phrase gets bandied around a bit too much. But we think you'll agree, this Beverly Hills architectural home is quite the specimen. Original rugs, wall coverings and sculptures are ever present while perusing thru this home. We applaud the owners for perfecting the intersection of luxury and mid-century over the past 60 years. And, we can finally have that pink and green bathroom.