Well, this post technically isn't a place we've lost. It's more about a place that could have been and never was.
In the late 1950's Wilshire Blvd between Crenshaw and La Brea was referred to by some as the "Dead Mile". The underdeveloped stretch lacked any of the Art Deco or Spanish Colonial Revival style buildings that dotted Wilshire to the West. But, did you know that plans were drawn up in 1959 to create a City within a City right in the Brookside neighborhood? The architecture firm of Charles Luckman (Los Angeles Forum, Kennedy Space Center, Madison Square Garden) was hired to develop plans that would include a hotel, apartments, restaurants and a park all linked by covered walkways. All this was to take place on the South side of Wilshire between Tremaine and Rimpau. The area of New York's Radio City Music Hall and its surrounding buildings was to be the blue print. Obviously this plan was not realized. How different this neighborhood would have been.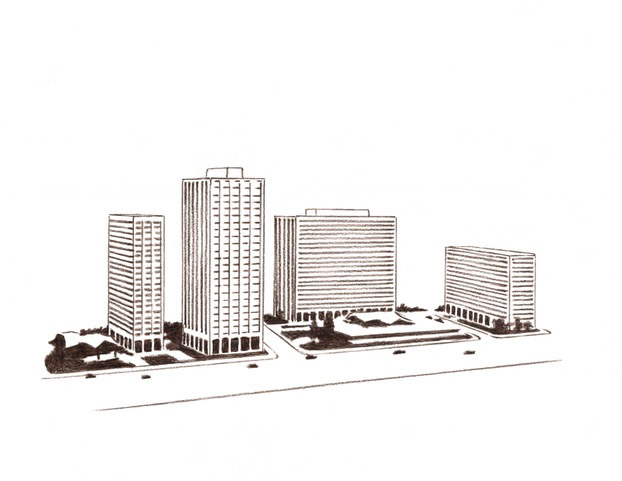 ---
If you would like to know more, contact Brian Courville at 310-622-0312. Or, for additional information on Mid-Century Modern | Architectural homes, Spanish homes, Historic Los Angeles homes or Classic Los Angeles homes for sale reach us by email at: Brian Courville. If you are considering selling, contact us for a free no-obligation home valuation.