Mar Vista Gregory Ain, Architect Modernique Homes
3550 Meier Street, Los Angeles | $2,495,000 | 3 BD | 2 BA
With as many examples of modernist architecture in Los Angeles, we, surprisingly, have few realized planned modern communities. This Gregory Ain designed house for the Modernique tract in Mar Vista is one of those few homes. A progressive architect who was arguably kept out of the Case Study program due to his controversial communist leaning views was still able to make a substantial impact on the landscape of Southern California modern homes. We know get to consider ourselves lucky to be associated with Ain.
Gregory Ain, Architect | Modernique Homes, 1948. Arguably one of the best in this enclave of fifty-two Ain-designed properties, this home has been well maintained and lovingly renovated by the creative family who live here.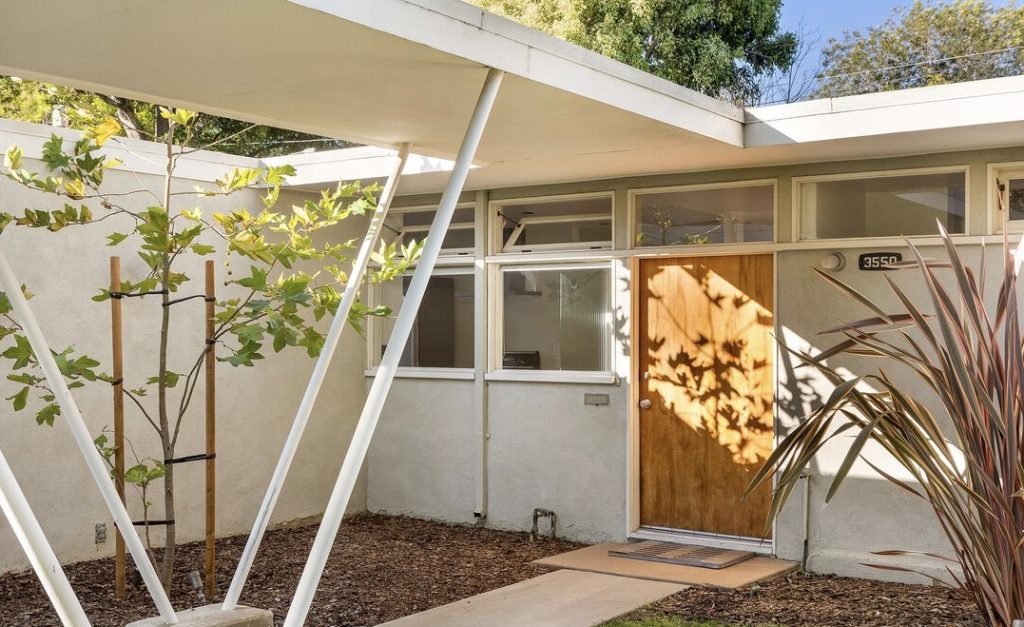 Surrounded by mature landscaping, including a giant redwood that appears to be about seventy years old, plus more recent enhancements that provide a calm and serene sanctuary. Original floor-to-ceiling windows, fireplace, built-ins, cabinet pulls, and hardware have been preserved, while finishes have been tastefully updated, with bamboo floors, quartz countertops, stainless steel appliances, timeless bathrooms, and European fixtures throughout.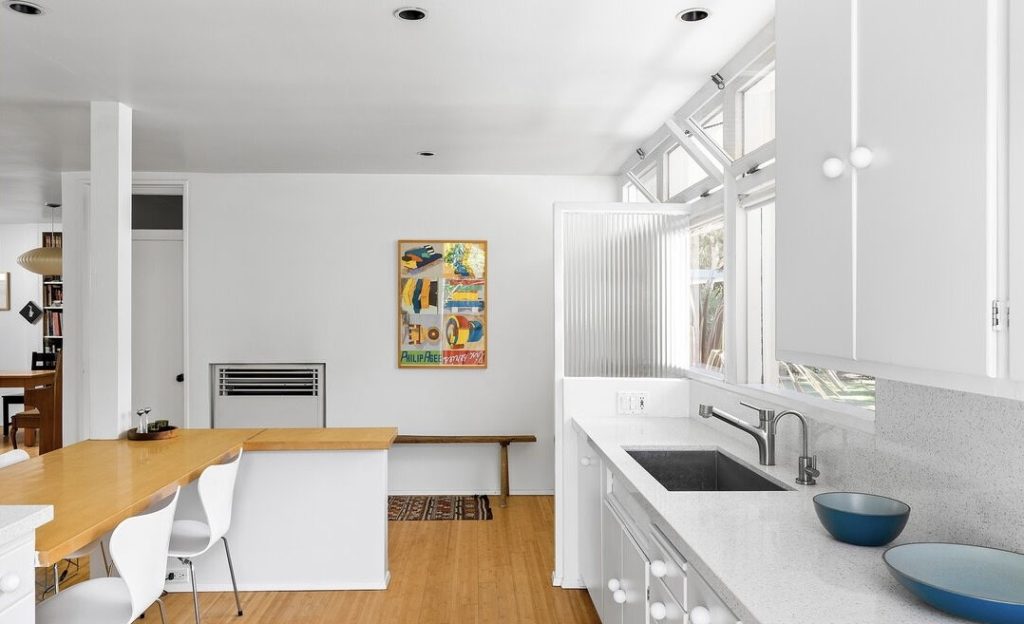 The garage has been converted into a home office or guest bedroom, with new skylights, clerestory windows, polished concrete floors, laundry room, and a pivot door that doubles as a blackboard. Originally the 3-block neighborhood was conceived as a combination of good design and low-cost postwar housing, Gregory Ain's successful attempt to bring modernist aesthetic sensibilities to the masses.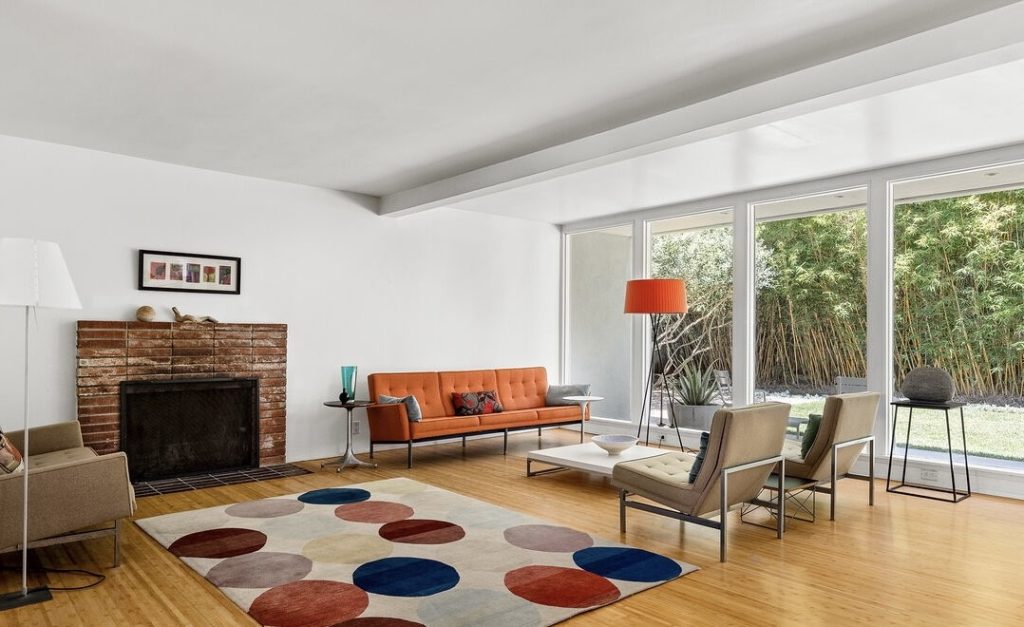 By rotating the houses in different directions and alternating rectangular and square forms, the architect was able to create eight unique configurations, resulting in a variegated presence on the streets. Unifying the composition, Harvard-trained landscape architect Garrett Eckbo created a communal park-like setting for the homes, with continuous lawns and greenspace running the length of the streets, unbroken by fences or private boundaries.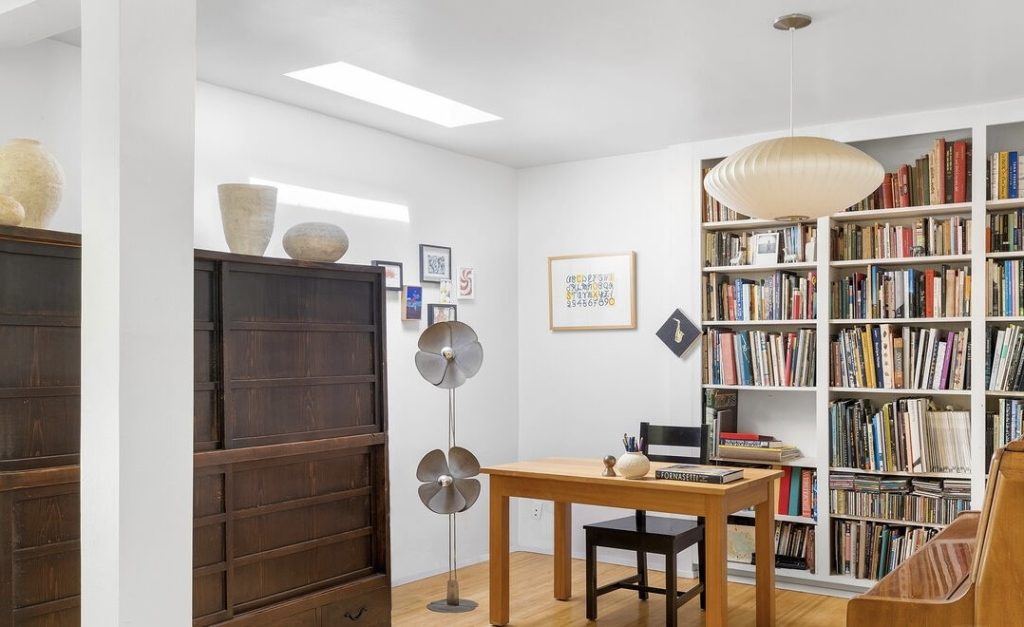 Today, the neighborhood remains a tight-knit community of like-minded architecture lovers who value the positive lifestyle benefits stimulated by good design. A rare opportunity to participate in the ongoing social experiment inspired by Ain and Eckbo's lofty vision. Likely eligible for Mills Act tax benefits.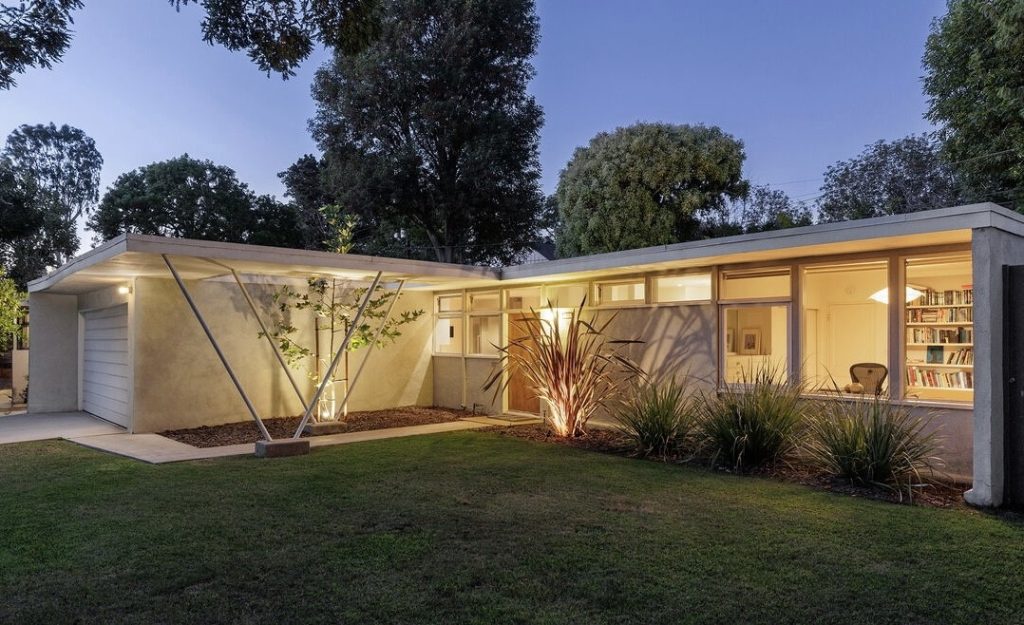 Listing courtesy of Brian Linder, Compass
If you would like to know more, call 310.622.0312 or email Brian Courville. Whether Mid Century Architectural, Spanish, Luxury, or Classic Los Angeles design, MODERN LIVING LA is here to guide you home. Follow us on Instagram @modernlivingla
Designated one of the Top 7 real estate websites for modern homes in the world by thespaces.com